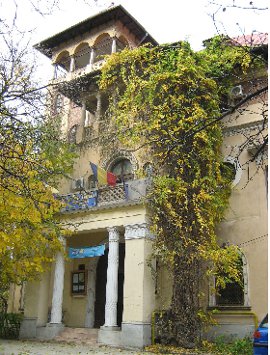 130 Years of Existence
Monday, 6 December 2010

THE NATIONAL PEDAGOGICAL LIBRARY "I.C. PETRESCU"
celebrates
130
YEARS OF EXISTENCE
1880 – 2010
Wednesday – December 8th, between 10.00 and 16.00


The National Pedagogical Library "I.C. Petrescu" was founded on December 18th 1880, together with the Superior Normal School of Bucharest.


The Pedagogical Library mainly serves teachers and researches, pupils and students, benefiting from the richest collection of publications from the pedagogical and education sciences field. In its stock, which reaches the amount of half a million volumes from all fields of knowledge, are included collections which belonged to some famous education and cultural institutions, as well as to the libraries of some great public figures.


The National Pedagogical Library "I.C. Petrescu" is a specialised library, of public law, of national importance, with legal personality, being subordinated to the Ministry of Education, Research, Innovation, Youth and Sport and it represents a methodological forum for school libraries and the libraries of the houses of the didactic corpus from Romania. The Pedagogical Library edits special publications which support the education, bibliographies, biographies of Romanian teachers and anthologies from the field of specialized literature.


Over time, the National Pedagogical Library "I.C. Petrescu" has developed numerous partnerships and projects with similar institutions, as well as with other education and cultural institutions, research institutes, embassies, having a major role in the development of the pre-university education, and not only. The Information Resource Centre "American Corner" Bucharest, hosted by the Pedagogical Library, also marks, on this occasion, the celebration of 10 years of Romanian-American friendship, while the "Indian Library" celebrates 10 years of existence.


The Pedagogical Library hosts the only Pedagogical Museum in the country, which celebrates a century of existence. The Pedagogical Library is also celebrating half a century of carrying on its activity in the villa of the illustrious lawyer, Istrate Micescu, an architectural jewel bearing the mark of the artist Cristofor Cerchez. Great personalities have entered this house of knowledge, leaving a mark of their passage in the Book of Honour.


In the program:
Opening speech from the authorities and some representatives from the field of education and culture.
Scientific communication session by personalities from the field of pedagogy and education sciences.
Book and painting exhibitions, a.s.o.
Artistic program

The anniversary will take place at the National Pedagogical Library "I.C. Petrescu" headquarters (near Cișmigiu Park), in "Istrate Micescu" Hall and in the downstairs hall.
Translated by: Mihaela Eliza Sora and Elena-Andreea Armă
MTTLC, Bucharest University